DUBLIN, March 7, 2018/PRNewswire/ —
Cisco recently completed a new Industry Project in partnership with Digital Skills Academy.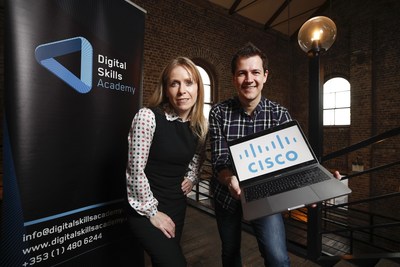 (Photo: https://mma.prnewswire.com/media/651053/Cisco_Digital_Skills_Academy.jpg )
The largest IT and networking company in the world, Cisco, is the latest major multinational tech company to join Digital Skills Academy's impressive list of Industry Partners.
Digital Skills Academy's unique International BSc Degrees, Professional Diplomas and Online Short Courses provide working professionals with experience of developing real digital solutions to real business challenges. These challenges are provided by Industry Partners, a network of organisations that have placed digital at the heart of business strategy. They range from developing websites and mobile apps to launching digital marketing campaigns and using digital solutions to make existing processes far more efficient.
Digital Skills Academy's unique approach to experiential learning enables graduates to apply their new skills immediately.
Cisco provided real-world challenges for participants to develop their digital skills. Participants were provided with access to digital technologies and tools to address the given challenge and were required to share the outcome with Cisco.
"Digital opens up a world of opportunity, but it also introduces extensive complexity. To be successful in any industry, we now need a world of problem solvers who think digitally", said Kathryn Baddeley, Head of CSR and Skills, Cisco UK & Ireland.
"We were delighted to work with Digital Skills Academy to help their participants develop expertise through real-world challenges," she added.
"This was another exciting Industry Partnership for Digital Skills Academy and more importantly, it provided programme participants with hands-on experience of working with one of the biggest names in technology and innovation", said Paul Dunne, Founder and CEO at Digital Skills Academy. "They gained invaluable experience by working in a cross-functional team, combining the functions of application development, design, research, social media integration and big data – and learned how to apply and perform their learning in real-world situations."
Christos Koutsiaris, a Senior JavaScript Developer at SAP Ireland, originally from Greece, completed Digital Skills Academy's BSc Honours Degree in Digital Technology, Design and Innovation, and was part of the Cisco Industry Project team. Commenting on the project, Christos highlighted that "working with a tech giant such as Cisco during a four-month project was very enriching. Not only did I apply key skills learned during the programme in a very hands-on business environment, but the project also enabled me to develop other competencies around digital collaboration and agile project development."
About Industry Partner Agreements
Industry Partnerships are symbiotic relationships developed by Digital Skills Academy with various major private and public organisations across the globe. Each Industry Partner is provided with a cross-functional project team that addresses the Industry Partner's specific requirements by exploiting the latest tools and techniques learned on the programme. The team typically comprises a tightly knit team, which includes a project manager, developers, data analysts, digital marketers and content/UX designers.  This enables the Industry Partner to address digital innovation opportunities whilst playing a central role in expanding the digital talent pool.
For further information on Digital Skills Academy's Industry Partners visit: https://digitalskillsacademy.com/industry-partners
About Digital Skills Academy – Founded in 2008 by CEO Paul Dunne, Digital Skills Academy is a premier industry provider of online BSc Degrees, Professional Diplomas and short courses in digital skills and has produced over 2,500 talents to date. Participants on Digital Skills Academy programmes come from respected international companies that include Barclays, EY, Deloitte, Credit Suisse, Dell, SAP, Google and Oracle.
Contact: Rebecca Beaty, Corporate Marketing Manager, Digital Skills Academy, Tel: +353(0)15-111-261, Email: Rebecca.Beaty@DigitalSkillsAcademy.com
Source: Digital Skills Academy